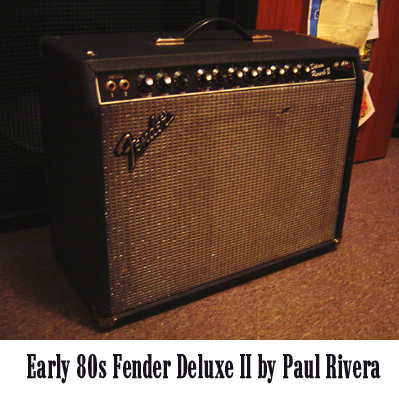 Click the links below to see the pictures

FRONT OF THE AMP

BACK OF THE AMP

BACK PANEL

SPEAKER

FRONT OF AMP




Designed by Paul Rivera (check out the amps he now builds under his own name as they are serious pieces of boutique kit) this is a great sounding small, but very powerful amp.

Take some time out to read the owner reviews at Harmony Central: http://www.harmony-central.com/Guitar/Data/Fender/Deluxe_Reverb_II-01.html

The amp is only rated at 20 watts but it is super loud and competes evenly with my Twin Reverb at everything up to ear killing volume. It has 2 channels Ė the first with a simple Volume/Treble/Bass (with push pull on the volume for Bright) and the second has a Volume (with push pull for channel select), Gain, Master Vol, Treble, Bass, Mid (with push pull for Boost), Reverb and Presence. It has 2 inputs on the front and the old style Fender jewel on/off light. PICTURE OF FRONT OF AMP

On the back we have a voltage selector, Hum Balance, Direct Out, Speaker Out, Reverb In and Out and 2 footswitch options labelled Red and Plain. Have a look at the user reviews for the footswitch info. This amp is without a footswitch Ė the Rivera-era silver switches are actually pretty tough to come by though most modern switches should do the job. Iíve never had need for channel switching so it never bothered me.

Itís in cosmetically sound condition with a couple of issues: there is a very small 1Ē tear in the silver fabric on the front panel visible in this picture here . There is also a hole drilled in the rear panel which I guess is for an additional speaker out or line out which has since been removed. Again, click this link for an in depth picture - the hole is circled in white and have a look for yourself.

It also has a replacement speaker. The old speaker works fine and is included in the auction if desired but the new speaker is a significant improvement in my opinion. Itís a genuine Fender 12Ē speaker built by Emminence in Kentucky. Itís about a year old. PHOTO OF NEW SPEAKER The metalwork is a little dulled but the amp is 20 years old so itís understandable. In fact, it looks pretty cool I reckon.

Also included in the auction is a neat grey vinyl cover for the amp to keep it nice and clean.

It hasnít been used in anger much and itís not been gigged by the last 2 owners so if you want to crank it up Iíd recommend getting it serviced first but the valves were replaced recently and at home volume levels it sounds great so I have no reason to think itíd sound otherwise turned up to 10 (but Iím not going to p*ss my neighbours off finding out!).

So, a great little Fender amp, built in the USA and designed fantastically well. You get a new speaker and the old one too. So if you need a good gigging amp thatís not going to break your back then good luck bidding! No reserve either!