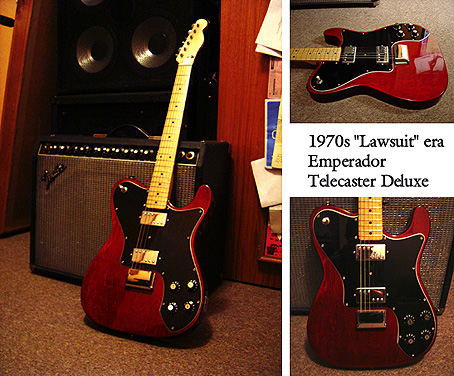 WOW!
(Please be patient and wait for the photos to load because itís worth it!)

Youíre looking at a 1970s Emperador reproduction of a Fender Telecaster Deluxe. In the 70s Japanese guitar manufacturers began making high quality copies of big brand guitars until the big brands took out a lawsuit stopping them doing so on the grounds that the headstock shapes were copyrighted by the manufacturer. Hence the term "lawsuit".
Most of these, and nearly all the high quality ones were built in the Ibanez factory and then exported to other countries bearing the brand name determined by the importer. In the UK we got a lot badged as Antoria, or CMI.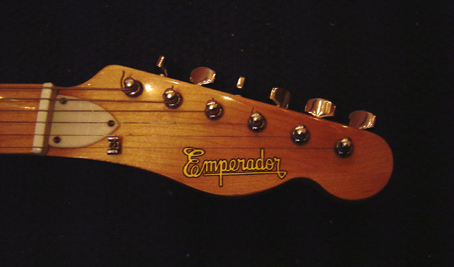 I think Emperador is an Australian brand but Iíve never seen another. Anyway, this particular model comes up a lot badged as CMI and Ibanez so theyíre exactly the same thing.

Anyway, look at it!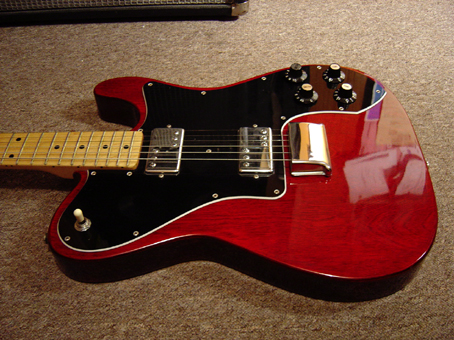 Itís not an exact Tele Deluxe as the headstock is the smaller Tele type so itís more a hybrid of the Deluxe and the Keith Richards style Custom. Youíve got two Fender styled humbuckers and a control layout like a Les Paul.

I canít stress this enough Ė this is MINT. Itís total time warp stuff. It even has a bridge cover plate which most genuine Tele Deluxes are missing! I think it even has the original strings (or they feel that old to me Ė Iíll leave them on for you to decide). It shines like a new guitar. There are a couple of minor marks on the body but you could polish them out. It has never been played - really. It even has the "Made In Japan" sticker on the neckplate!

Click to have a look at this picture of the fretwear

Click here to have a look at this picture showing the neck



The colour is a deep translucent red and is really well done too. The wood grain comes through and looks awesome. In fact itís held up better than the Fender equivalents of the era, which you often find dull over time.

Even with the old strings on, the pickups are really fat sounding. Itís super bassy. I actually bought this as a backup to my genuine Deluxe and it definitely rivals it for tone and playability. Have a look at this photo to compare the two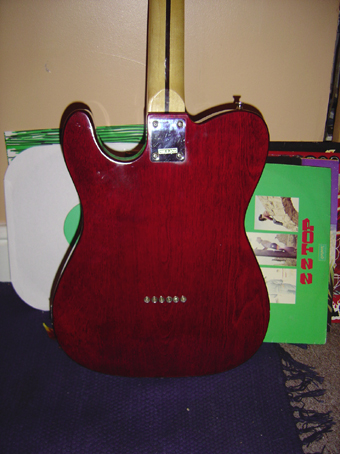 Seriously, this is an unbelievable guitar. You wonít find a better example of a lawsuit era Tele. Iíve seen Ibanez badged ones of these go for over 300 quid. My opening bid is way below that and thereís no reserve. So if you collect "lawsuit" era guitars this is perfect. Or if you want a great gigging guitar so you can leave your vintage Tele at home then this is the one. Just give it a good home!

Click here to see the jack area of the guitar (which is raised like a modern Tele not recessed like a vintage one)

Check my feedback and check my other auctions for more guitars and the Fender amp pictured with the Tele.

Good luck!