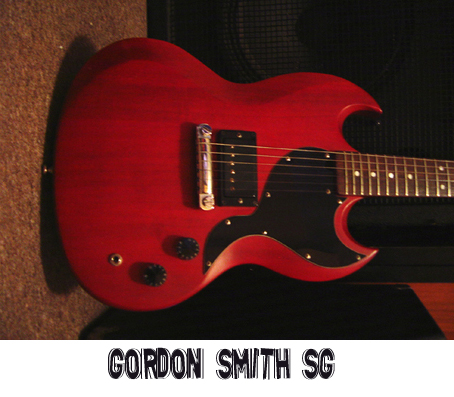 serial number 07330

(Please be patient and wait for all the pictures to load as they're worth the wait!)

If you donít know about these guitars, go check out reviews on the web before you go bidding on an Epiphone!
http://www.harmony-central.com/Guitar/Data4/Gordon-Smith/SG-Custom-01.html

Theyíre hand made in the UK (and have been for years now) and prove that by using no frills designs you donít have to sacrifice quality to get a price tag down. GSí most popular models are the one and two pickup varieties of Les Paul Jr style guitar but this is the slightly rarer SG version.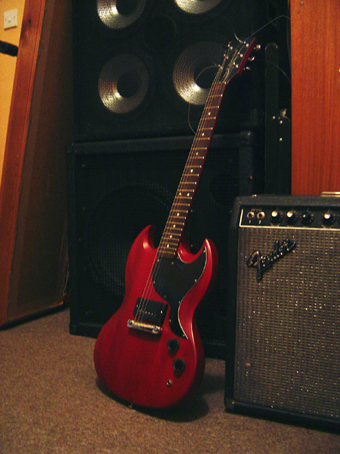 Best bit is it has a fixed neck and the construction and craftsmanship are first rate. This is a single pickup model and the pickup is Gordon Smiths own design humbucker. It gives a really gnarly sound, much harsher and more honking than a Gibson humbucker. Maybe more like a P90. Just one set of volume and tone controls and thatís your lot.
All the parts are top draw, the tuners are unbranded but look like Grovers (either way theyíre smooth and dependable); it has a brass nut and single piece wraparound bridge.
The neck is shallow and wide and feels great and the whole guitar is a joy to play. Admittedly itís not the most versatile guitar but if you have a Marshall Ĺ stack you need this!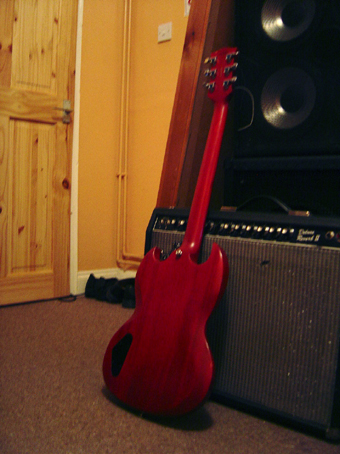 This one has had one owner from new; itís coming up for 10 years old and although itís been gigged lots its in good condition.




Minor issues: The headstock fascia is chipped at the top left corner (but not the actual headstock) and the fascia has begun to come away as a result. Itís been super glued back down and doesnít affect the guitar at all, aside from cosmetically. Having said that Iím sure you could get a new one from GS if you so desired or clamp and super glue the fascia back on for a smoother finish. There are a few chips here and there too and itís not been used for a while so some of the metalwork is a little dulled but nothing an afternoon polishing wouldnít sort out.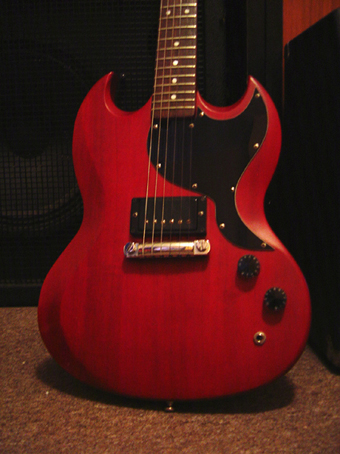 So there you are. The best value guitar about? Quite possibly! This beats an Epiphone no contest and stands up to a Gibson at about a quarter of the price. And no reserve!